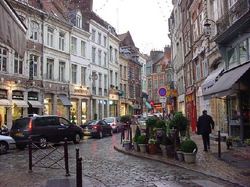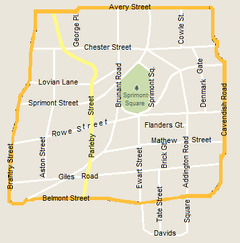 Sprimont is an affluent borough in Kemburg City, the most expensive area in the country. Sprimont is located in the old town and is characterized by brick and stone houses, costing around K£ 1,000,000. Parleby Street is considered to be the main shopping street in the borough.
Sprimont is the smallest of Kemburg City's boroughs and one of the least populous (in figures and density). Despite this it is home to a variety of organizations, boutiques and many embassies and official residences. It is bounded by Brantry Street in the west, Cavendish Road in the east, Avery Street north and Belmont Street (with Davids Square) to the south.
Squares and streets
Edit
Sprimont Square
Edit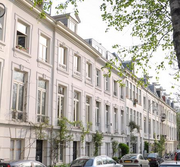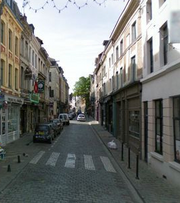 The park and plaza of Sprimont Square is the center of the borough. The square is located between Brunant Street, Sprimont Square, Rowe Street and Sprimont Street. This area is considered to be the most expensive of the borough, particularly on Sprimont Square, where three-level houses sell for over one million pounds. The area around the plaza is home to several embassies and official residences, including those for Brunant, Lovia, Denmark and the United Kingdom.
Parleby Street
Edit
Parleby Street is the borough's high street and an upscale shopping area in the city. Particularly between Sprimont and Chester streets, you will find a variety of jewellers, couturiers and luxury goods stores.
Flanders Gate
Edit
Flanders Gate is a small gated (and police protected) street off Addinton Road which includes a number of official government residences. Number 6, Flanders Gate serves as the Prime Minister's residence, number 8 for the senior State Secretary/Deputy Prime Minister and number 7 houses the security detail for the PM and Vice PM. The rest of the houses are private residences, though sales and purchases have to be overseen by the government for security matters.
South Sprimont
Edit
South Sprimont is an unofficial name for the area between Ewart and Mathew Streets up to Davids Square. This area is mostly private residential and is known for it's white stone houses. Brick Gate contains the only detached houses in the quarter, both of them worth some K£2.5 million each. Formerly these residential mansions belonged to gentrified families but now house a private college and the Institiute of Dentists and Physicians.
Notable locations
Edit
Prime Minister's Residence, 6 Flanders Gate
Libertan Consulate-General, 11 Sprimont Square
French Embassy, 12 Sprimont Square 
Brunanter Embassy, 25 Sprimont Square
Lovian Embassy, 62 Rowe Street
British Embassy, 66 Rowe Street North
Prasian Embassy, 33 Sprimont Square

Institiute of Dentists and Physicians, 2 Brick Gate

Verona Coffee, 12 Tate Street
Brash, Avery Street
VCPark, 15 Giles Road
Community content is available under
CC-BY-SA
unless otherwise noted.